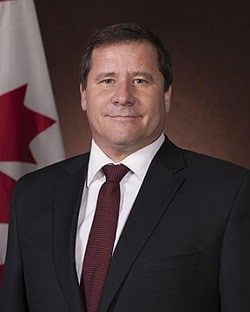 Claude Rochette
Assistant Deputy Minister, Department of National Defence
Mr. Rochette was named the new Associate Deputy Minister of National Defence in January 2019.
Previously, Claude served as the Assistant Deputy Minister (Finance) and Chief Financial Officer (ADM(Fin)/CFO) of National Defence (DND) starting in January 2015. In this capacity, he served as the strategic financial advisor to the Deputy Minister and the Investment Resource Management Committee.
Prior to accepting this role, Claude was the Vice-President, Comptrollership Branch and Chief Financial Officer at the Canada Border Services Agency from June 2012 to January 2015. In addition to being the strategic financial advisor to the President, Claude was responsible for overseeing the agency's infrastructure, procurement, contracting, assets and security policies and processes.
From 2010 to 2012, Claude was the Director General of Finance and Chief Financial Officer at the Communications Security Establishment Canada. He provided strategic financial advice to the Chief and was responsible for procurement, contracting, asset management and business planning.
Claude joined the Canadian Armed Forces in 1984. He served in a number of senior executive positions including senior auditor, Director General Compensation and Benefits, and Commandant of the Canadian Forces Support Unit (Ottawa). Claude retired as the Comptroller of the Canadian Armed Forces and Deputy Chief Financial Officer of National Defence in 2010.
Claude graduated from Université Laval with a Bachelor of Arts in Industrial Relations in 1983. He is also a graduate of the Canadian Forces Command and Staff College (2000) and the National Strategic Studies Program (2008). He was accredited as a Certified Human Resources Professional by the Canadian Council of Human Resources Associations in 2003, and awarded his designations as a Chartered Professional Accountant in 2008 and a Professional Logistician in 2009.
In May 2015, Claude was declared winner of the 2015 Award of Excellence in Public Sector Financial Management – Financial Leadership (CFO) by the Chartered Professional Accountants of Canada. In June 2018, he was awarded the first ever Deputy Minister John Forster Collaboration Award for exceeding expectations in the advancement of Defence or whole-of-government priorities.
In November 2018, Claude became a Fellow of CPA Ontario. The Fellows (FCPA) distinction formally recognizes those members whose achievements and contributions, in their careers and in the community, have rendered exceptional service to the profession. Becoming a Fellow is the highest honour that can be bestowed on a CPA.